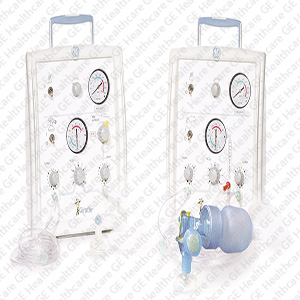 Giraffe* Stand-alone Infant Resuscitation System, Bag &MasK
2082838-002
Maternal-Infant Care
Add to Wish List
Login To Shop
Login To Shop
• Giraffe* Stand-alone Infant Resuscitation System: Bringing life-saving capabilities virtually anywhere
• The Giraffe* Stand-alone Infant Resuscitation System is an integrated resuscitation system supporting suction and both T-piece and bag and mask configurations in one unit. This system combines all essential capabilities in a single, compact unit, designed with high risk deliveries, transport and bedside caregiving in mind
•Product Features: We have a handle on resuscitation
Clinical Efficacy
- Preserves PIP even with flow rate change during procedure.
- Easy to use with single knob to adjust PIP combined with a PIP override release knob to safely control the delivery of pressure > 30 cm H2O.
- Improved transition time for adjustment of the T-Piece system results in an approximately 3X faster transition to desired pressure and correspondingly fewer breaths within the transition time*.
True "All-in-One" System
- Designed to meet the latest ILCOR recommendations adopted by local resuscitation councils, the unit supports:
• Both T-piece and Bag-and-Mask resuscitation configurations
• Effective airway management, with fully integrated suction
• Monitored delivery of positive pressure during ventilation
• Blended Air/O2 gas delivery to meet the clinical needs throughout the stabilization period
• Preparedness/Convenience
- Accepts both wall and tank gas inputs.
- Priority valve conserves tanks so they are available for transport.
• Flexible mounting options, from roll stand to GCX arms allow the StAR to be adapted to numerous systems as:
- Giraffe Incubator Carestation & Legacy
- Giraffe OmniBed Carestation & Legacy
- Panda Warmer
- Giraffe Warmer
- Shuttle