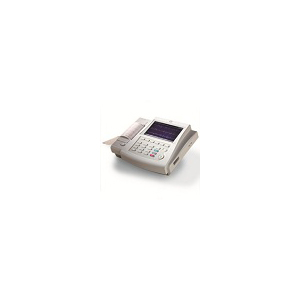 Resting ECG MAC 800
2061402-002
Diagnostic Cardiology

Resting ECG
Add to Wish List
Login To Shop
Login To Shop
Description:
Compatible Products
MAC* 800 ECH System - Get advanced connectivity, portability and technology for accurate and reliable ECG information and fast, confident diagnoses.
MAC 800 is a light, portable ECG with integrated measurements suitable for adults and pediatrics. This 6-channel resting ECG system has the capability to work in both in resting and Arrhythmia mode


Product Features:
On-screen 12 SL measurement & interpretation tools
Hook up advisor for optimal ECG signals
6-Channel & full report print-out
Display: 7 inch color LCD, 12-lead
Built-in modem, 2 direct USB for external keyboard and A4 laser print
Long-lasting Li-Ion Battery with 3 hours autonomy
Multiple QT correction formulas (Fridericia, Bazett and Framingham), R-R analysis to detect underlying HRV patterns and measure R-R intervals


Technical Specifications:
ECG interpretation: Marquette* 12SL ECG Analysis Program for Adults and Pediatrics
100 ECGs storage maximally + CARD SECURE DIGITAL -2GB
Export the ECG data in PDF format
Option to display 12 leads waveform on resting ECGs
Laser printer support via USB, LAN, WiFi (WiFi requires additional purchase of hardware)
MAC*800 v2 Modem-Serial Port to CardioSoft Upgrade - Communication option to send data from MAC800 to CardioSoft through Modem and/or Serial Port
Weight 3.0 kg including battery, without paper
Dimensions 120 x 330 x 280 mm (H x W x D)
Warranty: 5 years
Includes: Resting IEC Multilink patient cable + disposable electrodes + 1 pack of 110x140mm paper, British Power Cord, Operating Manual

Installation & Training:
For installation and Training, please refer to the operator's manual.
This part may be compatible with the following systems. You should check your owner's manual to confirm.