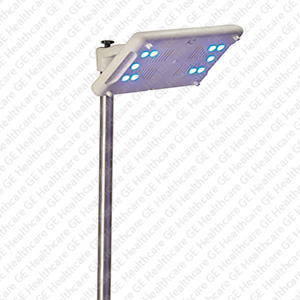 Lullaby LED Phototherapy System
2059118-001
Maternal-Infant Care
Add to Wish List
Login To Shop
Login To Shop
• Lullaby LED Phototherapy System: Excellent clinical performance, effortlessly achieved, for a lifetime of savings
• Excellent clinical performance design with developmental care in mind, the Lullaby LED Phototherapy system has a flexible use with cradle, open warmer or closed incubators . It is designed to be user friendly and provide
worry-free operation day after day with almost 6 years of night and day performance.

• Product Features:
Clinical performance
- Maximizing bilirubin breakdown
- Optimal wavelength delivery
- High intensity up to 45 µw/cm2/nm - Tailor treatment to patient
- Uniform & wide Light Distribution – large treatment area
- Promote developmental care – whisper-quiet operation, minimize light spill
Easy of use
- Designed to fit seamlessly into your NICU
- Flexible use with cradle, open warmer or closed incubators
- User friendly, worry-free operation
Total Cost of Ownership
- Free up your mind with the 6 years warranty
- LEDs for 50 000hrs
• ~6 years of day & night performance!
• 50 times the life of the CFL bulbs
• Big reduction in replacement costs, including cost of downtime
- Low power consumption - Up to 80% less than other PT systems
• Technical Specifications:
- Removable head - For seamless use with incubators
- Light weight - Only 10 kgs for exceptional maneuverability
- Ultra compact - Small footprint takes minimal space
- Adjustable height - By up to 47 cm
- Lamp unit tilt - Up to 90˚ tilt, allowing use in conjunction with a radiant warmer. There may be a drop in the incident irradiance when used in the tilted condition.
- Omnidirectional, small wheels – Slide under most bassinets or warmers An investment
- Almost 6 years of night and day performance
- Our LEDs are rated to last up to an incredible 50,000 hours2 before requiring replacement: 50X longer than CFL tubes that require replacement every 1000 hours.
• Installation & Training:
For installation and Training, please refer to the operator's manual
• The right solution for you
- Traditional concept PT
- Low cost of ownership, 6 years warranty extension, 50000h lifetime
- Ease of use on its pole, or disassembled and mounted on the top of a canopy
• This product is compatible with the following system:
- Giraffe Incubateur Carestation & Legacy
- Giraffe OmniBed Carestation & Legacy
- Table radiante Panda iRes
- Table radiante Giraffe