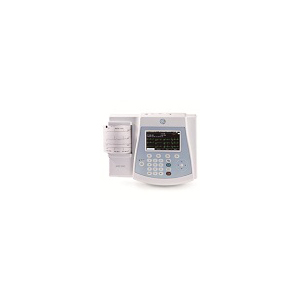 Resting ECG MAC 600
2048726-065
Diagnostic Cardiology

Resting ECG
Add to Wish List
Login To Shop
Login To Shop
Description:
Compatible Products
MAC* 600 ECG System - Reach a large number of patients with this capable, portable and easy-to-use digital ECG.
The 3-channel MAC 600 ECG system is a portable, easy to use and compact digital solution without compromise. The 12-lead ECG, measurements and interpretation are displayed on the screen


Product Features:
Reliable Decision Support with on-screen 12 SL measurement & interpretation tools
Hook up advisor for optimal ECG signals
Long-lasting Li-Ion Battery with 3 hours autonomy
Ultra Portable and extremely light (1200 Gms with battery included) for easy transport
Display: 4.3 inch color LCD, 12-lead
In-built modem, 3-Channel & full report print-out


Technical Specifications:
MAC 600 Resting ECG COMMUNICATOR Package (12SL Meas & Interp, External Memory & SD, Color Display, PDF&XML, Serial comm, 12-ld display)
ECG interpretation:Marquette* 12SL ECG Analysis Program for Adults and Pediatrics
Dimension : 81 x 26 x 208 mm(HxWxD)
Weight 1.2 kg including battery, without pape
Warranty: 5 years
Includes: MAC* 600 IEC Multilink & Disposable Starter Kit (IEC Multilink leadwire + silver mactrode electrodes + universal clips + 80mm z-fold paper + cream electrode); British Power Cord, Operating Manual

Installation & Training:
For installation and Training, please refer to the operator's manual.
This part may be compatible with the following systems. You should check your owner's manual to confirm.