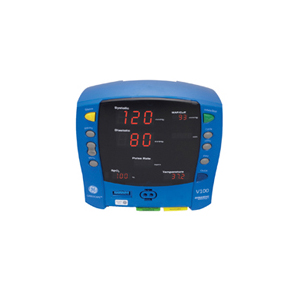 CARESCAPE V100 with Spo2 Nellcor
2038172-001-230401
Vital Signs Monitors

Vital Signs Monitors
Add to Wish List
Login To Shop
Login To Shop
Description:
Compatible Products
CARESCAPE V100 with Spo2 Nellcor
The CARESCAPE* V100 monitor is designed for care areas where patients require vital signs measurements.


Product Features:
Can be used for spot-checking or for continuous monitoring, providing you the flexibility of a "2 in 1" device
Designed for adult and pediatric use, as well as neonatal patients with very low perfusion rates
Non-invasive blood pressure measurement uses GE's exceptional DINAMAP* technology
Allows for inflation setpoints, so you can be sensitive to patients' special circumstances and ensure their comfort
Large display makes it easy to read even from a distance
Stores up to 40 measurements for up to 24 hours


Technical Specifications:
SuperSTAT NIBP algorithm
Nellcor OxiMax SpO2
Dimensions (H x W x D) 19.5 x 21.9 x 13.5 cm
Weight 2.4 kg (5.4 lbs) including battery
Warranty: 2-year parts and labor warranty.
Portability Carried by recessed handle or on a roll stand
Includes: Nellcor Cable & Sensor, Adult Dura-Cuf, 12 ft Hose, 2T, Screw Connector, Ops Manual, Service CD

Installation & Training:
Includes: DVD CARESCAPE V100 Training video (UK) free of charge code DVD-V100-ENG-0413
For further in-depth information, please refer to the operator's manual.
This part may be compatible with the following systems. You should check your owner's manual to confirm.